All the fiddle styles for the Festival of Texas Fiddling are, at their heart, music for dancing. This Festival highlights that symbiotic perfection of fiddle and dance --all in the ideal setting of the historic Twin Sisters Dance Hall that has always been the home for it.
The December 6 festival in less than two weeks culminates in a dance at 7:30 pm with Al Dressen's Super Swing Revue.
Now we are pleased that the Festival will also include an old time square dance. The dance will take place at 1:15, right after the Texas old time fiddle workshop led by Howard Rains.
This is going to be a Southern style square dance rather than the more highly stylized Texas style. Which is to say you can come as you are and just have good time dancing. No need for experience. All the dances will be taught beforehand. And no need for matching outfits, either (though you won't be turned away if you got 'em).
The band for the dance is multi-instrumentalist and general king of Texas music Mark Rubin, old time fiddler Derek Larimer, New Orleans guitarist John Kashner, and yours truly on clawhammer banjo.  The caller will be a local Austin caller.
Square dancing takes a lot of forms across the U.S.—and yes, most of them are actually a whole lot better than the sessions you may dimly remember from the gym in grade school.  I personally grew up in the Midwest, which is just a short way of saying that I grew up square dancing as a kid.   (And, like any sensible sort, as a kid I fled from these dances right into something more my speed at the time.)
But make no mistake--square dancing is a huge amount of fun.  Traditional Southern squares are going through a really intense revival across the country.  A new generation of people, including a whole lot of young people, are taking the dancing, the calling, and the music seriously at events like this .The Southern traditional square dance revival is beating back the expansionist (even imperialist) forces of Yankee contra dancing.... But I digress, that is the topic for another day. Though if you are interested, here is Phil Jamison's shot across the bow that helped trigger a revival in square dancing. Got to love lines like "A musician suggested to me that the Northern music usually used for contras is cleaner, friendlier, and "more palatable to Yuppie ears" than the less tame Southern old-time string band sound. Is it closer to new age" music? ...There are problems on the dance floor, too. "
Of course, it goes without saying that Texas has a long and powerful tradition of specific styles of square and round dancing set to certain kinds of fiddling. This style of calling has a very tight, rapid, and melodic style with a kind of precision in the dancing that was hugely popular in the state (and still has some passionate adherents in places). Texas used to be filled with square dance clubs, which ranged from ones fielding only a square or two at a time to massive events filling huge halls. A nice little factoid I pulled from a history of Houston area square dancing found 71 square dance clubs in the city in 1949, totaling more than 5,000 dancers. That's a lot of dancers.
It would be nice to develop a Texas Folklife program on the tradition (historic and current) of Texas style square dancing.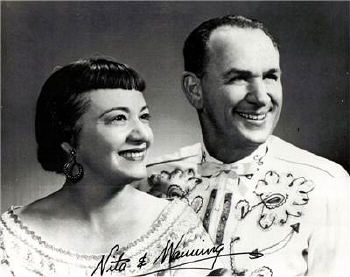 As far as Texas square dancing goes, I am personally most familiar with legendary caller Manning Smith through his old Columbia LP's, where he is calling to the music of the Rhythm Outlaws of Texas. That line I used as a title ("Now take a look at the girl you've got, then throw in the clutch, your motor's getting hot") was from one his calls for a dance called the "El Paso Star," set to the tune "Bitter Creek".
This is a very common dance, it is called at most of the dances I attend nowadays, and it is one of the dances I personally enjoy calling as well. Nowadays it is more often called "The Texas Star." People dance it all over the country, not not often with Smith's delivery.
Here are his calls, for those readers interested in learning to call in his style:
Is it really possible that Manning Smith's LP is not on youtube? That seems to be the case. What a loss!  You can however hear some of his calls at this square dance resource page and it is even being sold as MP3s.
Manning Smith, presented something of the Texas Trifecta of general all-round accomplishment. He not just a great square dance caller and the president of the Texas State Square Dancer's Association, he was also the football coach at Texas A&M for twelve years in the 1930s, during which time he led them to number one.  Not bad for a square dance caller. 
Now, I'm not guaranteeing that your football team is going to win if you come down to the square dance at the Festival in Blanco, but it worked for Manning Smith.